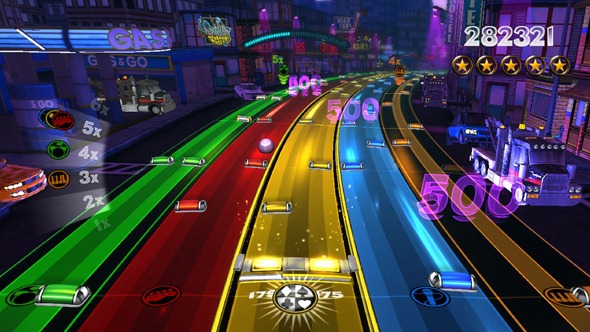 Oh yes! Ya sólo faltan dos semanas para que salga Rock Band Blitz y por fin Harmonix ha anunciado la lista completa de temas musicales para este juego descargable. Obvio que estoy muy emocionado, no sólo porque voy a remembrar mis días enviciado con Amplitude, sino porque varias canciones de Blitz las quiero jugar con instrumentos. Y por apenas $15, este juego/pack es una tremenda ganga. Yo hubiese pagado eso por "Jessie's Girl" nomás.
OK, basta. Viene la lista de canciones:
The All-American Rejects – "Kids in the Street"
Avenged Sevenfold – "So Far Away"
Barenaked Ladies – "One Week"
Blink-182 – "Always"
Collective Soul – "Shine"
Elton John – "I'm Still Standing"
Fall Out Boy – "A Little Less Sixteen Candles, A Little More 'Touch Me'"
Foo Fighters – "These Days"
Foster the People – "Pumped Up Kicks"
Fun. ft. Janelle Monáe – "We Are Young"
Great White – "Once Bitten Twice Shy"
Kelly Clarkson – "Stronger (What Doesn't Kill You)"
Kool & The Gang – "Jungle Boogie"
Iron Maiden – "The Wicker Man"
Living Colour – "The Cult of Personality"
Maroon 5 – "Moves Like Jagger"
My Chemical Romance – "Sing"
P!nk – "Raise Your Glass"
Queen – "Death on Two Legs"
Quiet Riot – "Metal Health (Bang Your Head)"
Red Hot Chili Peppers – "Give It Away"
Shinedown – "Diamond Eyes (Boom-Lay Boom-Lay Boom)"
Soundgarden – "Spoonman"
Rick Springfield – "Jessie's Girl"
Tears for Fears – "Shout"
Dato Extra: Los que son tan fans de Rock Band como yo, habrán notado que "Spoonman" de Soundgarden y "Give it Away" de RHCP están incluídas en Blitz. Parece que Harmonix pagó por las licencias nuevamente, así que si extrañaban esas dos canciones de Rock Band 2 que no pasaron con el export, pues aquí las tienen nuevamente y compatibles con RB3. Aprovechen.
–  Junior  –
Fuente: RockBand.com